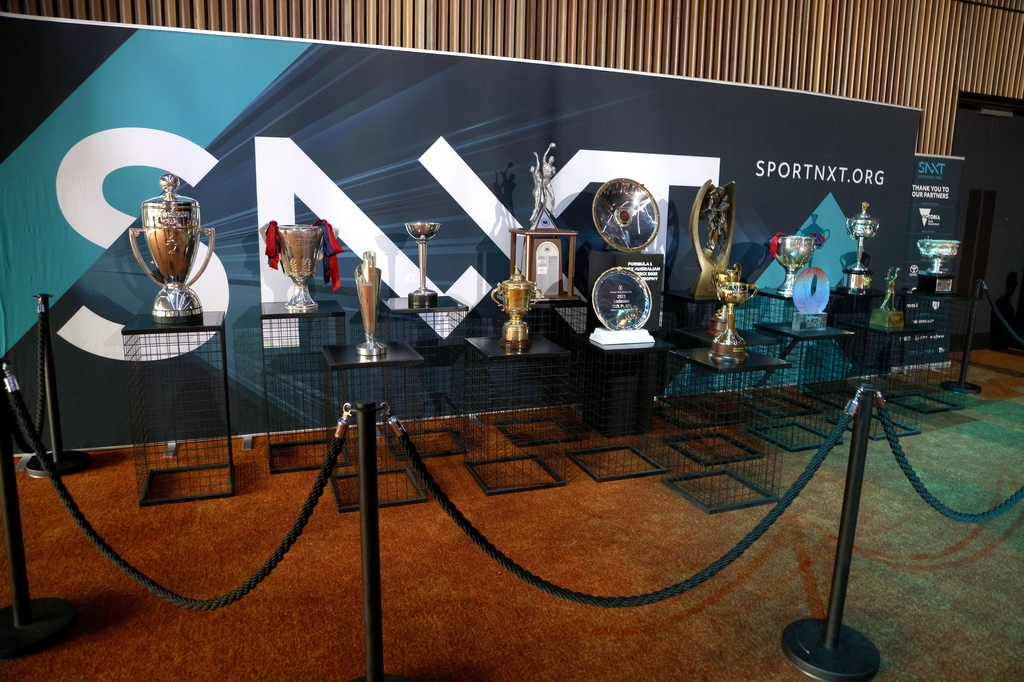 SPORTNXT: DAY 2 LIVE BLOG
29 Mar 2023
After a succesful day one, SportNXT is building for yet another day of insights, key connections and agenda setting conversation.
Bart Campbell, Director of SportNXT gives the attendees a reflection on what core points were distilled from the sessions across Tuesday.
Keynote with Jay Monahan
Jay Monahan, PGA Tour Commissioner, joins the conference in an interview with Hamish McLachlan.
Monahan opens talking about why Melbourne is such an important destination for the PGA Tour, and golf across the board.
"The PGA in Australia is extremely important to the PGA tour."
The commissioner makes it clear that the partnerships with the PGA Australia and providing pathways for Australians and players across the world to enter the highest levels of golf are priorities for his organisation.
"We've had an electric start to our season, I expect more of that to come."
In the wake of the launch of 'Full Swing' in February, and its upcoming second season, Monahan says the ability of this content to engage with a larger audience in a new way is a key goal that benefits golf overall.
"There is no question that Full Swing has been a great success for the Tour," he said.
Monahan acknowledges the impact of Tiger Woods and says "much of the reason golf is in the strong position it's in is because of Tiger … many of the young guys three, four, five years into their career are in the room because of him."
Monahan sees the last couple of years as a time of great opportunity for the PGA tour, and good outcomes came from focusing on the controllable variables. By looking at the rich history and heritage of the Tour and its broad-reaching positive effects, with "3.6 billion raised for charity", they leave "every market they enter better".
The commissioner signals great investment is in increasing the broadcast quality and experience for fans.
On the concern of youth interest, particularly in golf, Jay is confident in the development programs they have in place and their connection to the future players of the code. He makes the case "that our sport is in a better position than it has ever been at any point in time".
Jay says all sports must be more mindful of young people specialising more in sport, they are more likely to focus on less codes and play far more of a few.
"Time ultimately allows great brands to develop, it doesn't happen overnight … the great brands and franchises have stayed true to their purpose over time."
Monahan sees fans' time as their treasure, and if fans are willing to use their time to watch sport, play it or travel for it, that's the ultimate signal of a strong sport.
Monahan says he would think about changing rules around out of bounds as it can be awkward for players, home owners, and even be unsafe at times.
The PGA commissioner sees commercial partnerships as crucial, communicating business evolution with partners and having conversations, learning from other organisations and engaging with the possible opportunities out there are key.
"We're all in the pursuit of excellence, but there's not enough hours in the day," Monahan says. He emphasizes the importance of building a team that can push and look to innovate as a whole.
Jay thinks the talent and numbers coming out of golf in Australia will only increase, from the great pools of talent that are already present.
Keynote with Andrew Parsons: Sport For All
Andrew Parsons, President of the International Paralympic Committee, speaks to the audience.
The Paralympic Committee focuses on three key areas. Firstly, they serve, and engage with, their members. Secondly, they help grow and showcase the importance of parasport. Thirdly, they recognise that it's not just about the Paralympic athletes, but the 1.2 billion people with disabilities.
Parsons emphasises the dangers of people with disabilities experiencing avoidable health issues from lack of physical activity.
"When surveyed, 97 per cent of elite para-athletes were employed–far higher than non-athletes," he says.
Andrew speaks to the power of parasport to transform community exclusion into community inclusion.
The arrival of Paralympic Games in host countries often lead to huge steps for people with disabilities and parasport overall, steps that Parsons says will not happen without the games occurring.
"According to post games research, 1/3 people in the UK changed their attitudes to people with disabilities after the London games," and the performances of the Paralympic athletes led to better employment outcomes within the UK in the years following.
Parsons truly believes the Paralympic Games are a great chance to showcase and empower people with disabilities, but challenges delegates to look out further into other parts of community.
Parsons is now joined by Josephine Sukkar AM (Chair of the Australian Sports Commission), Belinda Duarte (Director for the Victoria 2026 Organizing Committee), and emcee Tracey Holmes (ABC).
Andrew Parsons reflects on how, when Ukraine was invaded two days prior to the Bejiing Winter Paralympic games, the committee made the choice to allow Russian and Belarusian athletes to compete as neutrals, resulting in the athletes calling for their full exclusion.
Josephine Sukkar says "it is a time for us to reflect and think how we engage in public discourse better," and acknowledges "the delicate dance" of public funding for sport.
"A lot of sports are still quite underfunded" she says.
"Sport brings out the very best in us and the very worst in us," says Belinda Duarte.
"I'm looking forward to the focus being taken from the evidence," she says on facing racism.
Duarte sees the coming Commonwealth games as a key point in positive progress for First Nations People. Duarte's ancestor, an Indigenous man, was a member of the first Australian cricket team to tour England.
Sukkar took aim at business values, saying that they have to be lived, ensuring all parties, sponsors, players and administrators alike focusing on unified goals.
"I don't care [about your advisory committee] I want to see what you actually do. From top to bottom, we have to live our values," says the ASC Chair.
Parsons makes clear the huge variance in dealing with disabilities and getting sport and resources to people across the world. For countries capable of hosting games, the benefits are well planned and will come. But offering benefits to other nations is critical too: how can countries that will never host games be beneficiaries of the paralympic games?
Sport activities don't have to be big events. They can be small, says Andrew, and often even the simplest aspects such as physical education are greatly underestimated.
"Sport is so integrated into our DNA [as Australians], it is who we are, and it is seen as our platform globally," says Belinda Duarte.
Duarte emphasises the ability of sport to allow us to connect and assist the full spectrum of communities in Australia, using sport as a unifying tool that can overcome boundaries people find in other aspects of their life.
With the NRL's ongoing debate around LGBTQI+ rounds, Sukkar says stakeholder engagement is crucial but there is a responsibility for sports leaders to have considered and nuanced approaches about creating partnerships that are in the interest of their players and communities.
Tracy Holmes says "the media can be biased too, propaganda isn't just something that happens overseas".
Andrew Parsons understands that many athletes don't want to be in a situation where they are expected or made to be engaged on every political topic. Athletes can be across a broad range of positions from not caring, to knowing but being unsure, to knowing and agreeing or disagreeing, so an organization shouldn't rush into positions without engaging the internal communities. It should be a planned process.
Duarte says "speak out, speak up, speak straight," and we should engage the right leaders and minds to help guide us across a variety of topics.
Keynote with Andrew Liveris AO: Fireside Chat
On leadership, Andrew Liveris AO, President of the Brisbane 2032 Organising Committee, says "there is reaction time and action time… the moment that matters the most is the moment you're going to create". Through his lived experience watching other leaders, he says not to be paralysed by decisions but taking action is key.
"Inclusion means not just being allowed in the room, but listening carefully to what's being said. Culture isn't some high level world, it's the power of listening and executing upon that."
Liveris says leadership isn't based on talking about values, but acting and executing upon the values that matter.
Sports should be a celebration of human and higher values, but it should also be willing to play a broader role in society and bring more people in. Civil society and sports are moving to a new place. It's not just the arrival of ESG parameters and digital but it's a human experience.
The goal for Brisbane 2032 is about accessibility so the key human experience and enjoyment of sport is available to all, says Liveris.
Andrew sees us being bombarded in this early stage of the digital era, but it doesn't mean that values across all generations can't be aligned for an event like the 2032 games. Embracing technology as a positive experience, "The Brisbane Experience" will be a standout that will accelerate the human experience in Australia. "These are Australia's Games."
In Liveris's view, it's more than just sports, it's health, nutrition and longevity, people's lives, and how long they live for, that are the key factors.
"We have to elevate Brisbane and all it implies … so it encompasses the region [Sunshine and Gold Coast] too."
Liveris has high hopes for Australia, wanting to "make us the place people want to come," and making the Games a paradigm-shifting event that has long lasting effects that promote Brisbane and the country going forward.
His goal is to make people look to Australia for excellence, inspiring it at home and across the globe.
Keynote with Gillon McLachlan: In Conversation with…
Gillon McLachlan, AFL CEO, speaks to Eddie McGuire at Centrepiece as his time as the head of the Australian Football league approaches its end.
Reflecting on COVID, McLachlan says the decisions and the sustained periods of pressure across the two years of lockdowns led to the toughest decisions he had to make.
"We established a war committee, we consulted with presidents and the commission, and the industry was divided," says McLachlan.
"There are decisions that are left to the individual, as much as you consult and engage" he reflects.
There was a direct conflict between the financial and social needs of the AFL and broader community. "Whatever decision you come up with, you have to prosecute it, […] you must understand it and explain it," says McLachlan.
The AFL CEO says you have to actually talk to different levels of the business, and that "it isn't possible to over-communicate." In periods of great uncertainty, there isn't a right or wrong but you need to do your best to achieve outcomes to benefit everyone, and communicate the benefits of these decisions to stakeholders.
"It's about doing the work and then prosecuting that … tailoring your messaging to reach the stakeholders," says McLachlan. Acting on what you said you are going to do gives you greater freedom in the future as people know your track record, the CEO notes.
On broadcasting, McLachlan feels the last deal made was at the right time and it still "looks good". On the role of AFL Media, McLachlan says the place of traditional print and broadcast media are changing and the AFL Media channels can allow for a different targeting strategy that adapts to the modern world.
"I don't believe it's our role to tell people what to do. I do believe it's relevant that on things that are relevant to us and our fans, we make our positions known," McLachlan says on the topic of taking social positions in sport.
McLachlan thinks growth comes from being progressive on social issues for the AFL.
McLachlan "didn't think we (AFLW) would be at 18 teams at this point".
The inclusion of women in AFL has changed the way women see the game and has created a much more "real conversations with 50% of the population".
With initial friction and uncertainty about the AFLW overall, McLachlan sees the outcome as exceeding what even supporters expected.
On succession, McLachlan thinks it's healthy that there's a number of candidates and the job has definitely grown since he started. "It's a very important decision for everyone … it's a difficult job to do if you haven't had the right grooming," says McLachlan.
When asked by McGuire if he would consider going onto the commission, McLachlan says "he was thrilled they [the AFL] has got so big" and the roles within it have definitely changed.
"Having daughters and feeling so unequivocally that my daughters had to have every opportunity my son had," McLachlan is passionate on promoting female involvement.
McLachlan says the only thing that really exercises his mind repeatedly is the changing face of the country and how to keep up.
While McLachlan sees the AFL as world-class in many areas, the end-to-end broadcast and entertainment experiences seen overseas in markets like the US are ahead. The AFL is working to increase their broadcast, using the Grand Final last year as an example.
"Football is pumping. I feel incredibly dominant in every metric–we can be affordable for consumers, kids are playing," says McLachlan citing the hard work of many people within the football ecosystem.
On racism, McLachlan says "it's acknowledging that you have a role to play in the journey of this country … be a part of the national conversation, that's the role we play".
Gill says this applies to many different topics, focusing on speaking to every community within the game and making it so everyone can find their place in the game.
"It is difficult to do this job when it is so emotional and so involved … you have to be trusted, you have to be known and loved by the community," says McLachlan. When fans know the leader loves the game, they are more likely to overlook mistakes, but if they don't trust you love the game and are acting in the best interest of it, you will struggle to lead.
"You have to be prepared to lose day in, day out to win in the end" said McLachlan, on prioritising courage and being relentless. "We're all just a sum of the people we work with," he adds.
In Conversation with Greg Tiley
Craig Tiley, CEO Tennis Australia, reflects on the massive effort it took to organise the Australian Open in 2021 through the lockdowns and isolation orders.
"The first thing I'm going to do is to have the best possible relationship with every player … going through every challenge the key is going to be the relationship" he says.
Tiley found once the event started, it was a perfect event in his opinion–especially based off the Australian performances.
"You really only know how to manage a crisis when you're in a crisis," Tiley comments around the COVID experience.
The CEO emphasises the importance of stepping away, getting a clear head on the decisions that need to be made and listening to the right voices, as opposed to all of them.
"One of the great things about sport in Australia [is that] it has always had the objective of being as inclusive as possible."
"The convergence of augmented reality and virtual reality is happening in real time… if you just put on a sporting event, you're going to lose," he says.
"The monetisation of the offside fan is where the future is."
Tiley emphasises the value of sport is the integrity. Without integrity, it is no longer a "gold mine".
The CEO also talks to the diversification of Tennis Australia's revenue streams past just the Australian Open, moving into investments leading to about 60% Australian open revenue and 40% other.
Tiley acknowledges the great infrastructure we have, especially in Melbourne. He notes that organisations need to take a more bottom-up approach for every individual and customise experiences for them as opposed to top-down in planning.
The Australian Open ten years ago was fourth to the other Slams, but is now bigger in both attendance and revenue–despite have around 1/5 of the people within an hour's drive of the tournament.
Creating Live: David Hill
On technology, Hill (Founder, Hilly Inc.) says the core principle of storytelling hasn't changed, despite technology improving.
"The biggest problem with most sports productions is the assumption that everyone knows everything," he says.
Hill says the most important thing he was told in his time in sports television was: if they're lucky, a fan will know about 20% about a sport, a player will know about 50% and a coach about 80%.
Throughout his career Hill has made sure to include "nuggets" so people always learn something when they watch.
In reference to his time setting up LIV Golf, Hill says they still ended up cabling in cameras, deciding against the wireless camera options.
Hill works now for F1 with a remote broadcast team based in a remote hub. The F1 has up to seven roaming cameras, 28 high definition cameras, 147 microphones, a stabilised helicopter mounted camera, slow motion and track side cameras, and over 80 cameras mounted on the F1 cars. While the technical aspects are done remotely, the commentators are still on the ground at the events so that aspect of the spectacle isn't lost.
To work remotely in this way, Hill says the key is to trust the team on the ground. A commentator can create a good viewing experience from any location, so being remote doesn't have to affect their ability to create a high-quality end product.
Hill says looking at societal trends, you have to adjust and change. He points to the success of productions like Redzone, which he created in order to have a more gamified and fast-paced viewing experience to attract younger audiences.
"My experience shows me you need to put in about five years of work before you become an overnight success," he said about his new business, Intaneous. The Intaneous system uses real time analytics to process data into on screen graphics that interact with the sport as it happens.
On the topic of microchips, Hill says the key in sport is to bring back the kids from video games and return them to sports. An experiment in this concept is the use of the 'ghost ball,' a computer generated image of the rugby ball that uses a microchip to track the exact location of the ball live to the broadcast feed, making it visible even when hidden from cameras.
These chips are being used in testing in Rugby League and Union, AFL and NFL.
An opportunity Hill sees involves using technology to take away the objective decisions for a referee, so that "the sports become in the spirit of what it should be," and officials can focus on issues such as intent.
Eddie McGuire and Hill agree the applications can be across all sides of sport, from broadcast to officiating and coaching. "If I'm the captain of the Titanic, I'm not seeing any icebergs," says Hill on the development of the Intaneous system.
Navigating a Changed Landscape
Moderator Leigh Harvey (Head of Growth Intelligence, Client & Commercial, News Corp Australia) is joined by a panel consisting of Glenn Lovett (Head of Sport Analytics at Dentsu), Charlotte Offord (GM AUS & NZ for NFL Australia) and Marissa Pace (CMO at Rugby Australia).
Lovett said 52 per cent of fans, especially younger fans, are finding their fandom in sport is an integral part of their life, up from 34 per cent pre-COVID.
Charlotte Offord sees the change in the use of tech from COVID as a driving factor behind sport coming into people's living rooms more creatively and people being more open to going along new fan journeys. The increases in viewership on TV and streaming, as well as new social channels such as TikTok rising greatly, has left us with a very different landscape after the pandemic.
Marissa Pace acknowledges that the competitors are changing greatly, they are no longer just in sport but outside of it. Sport exists fully amongst entertainment and not on an island.
Lovett emphasises the future of having far richer data sets that connect to what people are doing and buying, and details how this will become more common and crucial to businesses.
Rugby is reasonably new to the analytics and metrics that focus on their fans, according to Marissa.
Offord says that it's crucial to track markets both specifically and wholistically.
Lovett says the sporting industry is far more global, opening far more competition internationally and even outside of time zones a lot of content can be interacted with outside of the live experiences.
Charlotte says the NFL prioritises getting fans–not just making fans, but helping them to maintain their fandom. She speaks of the partnerships with Apple Music and Fortnite as examples of how the NFL are meeting the fan in the places they are already consuming.
Pace says "your technology needs to serve your customer first, before it serves your company". Experience integration for processes like ticketing need to be up-to-date and seamless.
For the NFL, the challenge is always going to be in Australian time zones. However, "I have never seen a market with such a fandom for sport." The NFL has seen great organic growth without investing that much into the market, but they are now committing to see what actual targeted investing will achieve.
Lovett sees AI as a great opportunity with "limitless" potential. The progress of technology alongside AI can lead to somewhat limitless entertainment potential, especially with augmented reality he says.
"We're a country that wants to live on the global stage and win," says Lovett. While many businesses seem to be making less decisions and making business cuts, Glen says historically sport proves to be recession-proof.
Pace says the NFL offers such an end-to-end experience, from fantasy football to the gameday experience, that it grabs you and doesn't let you go. She sees the NFL as a point of inspiration for end-to-end engagement.
Offord and Lovett both acknowledge the NBA as a great example of a brand doing well to engage with and bring the fanbase along.
The NFL is heavily investing in Flag football across Australia, investing in schools and championships across the state and national level and offering the opportunity for the winning team to play at the World Championship representing Australia.
"We need heroes in every sport, and rugby is a team sport … I think you call it tall poppy syndrome in Australia … we need to let players be heroes" said Pace on changes in Rugby Australia.
Digital Fan Engagement
Moderator Ravi Krishnan (Founder and CEO, Stepathlon) speaks to Sheila Rasu (VP Marketing and Communications, NBA Asia), Jeremy Loeliger (Commissioner, NBL) and Nathan Gumley (Executive Energy, Home & Entertainment, Telstra).
Jeremy Loeliger says his target audience for basketball is everyone. He says it is agnostic to gender, culture and many other factors.
Sheila Rasu says the NBA and NBL have a strong symbiotic relationship which fuels both markets. "About 87% of the general population know what the NBA is and 1/5 are NBA fans."
In Australia, you can be a core fan of multiple sports. The profit can still translate for all leagues despite the broad range of sporting interest fans hold.
Nathan Gumley says there is huge opportunities to find what makes the game tick through data and then use that data to drive the game further. Sports with huge participation, but not high broadcast potential, can still have massive potentials.
Loeliger says that "the NBA is as close an ally as we could possibly have".
When it comes to digital versus analogue fan engagement, digital fan engagement is far higher because it is so much more versatile, says Loeliger. "It's all about time limits and serving up on the right platform at the right time," he adds.
Rasu says one of the key differences between basketball and the NFL is that basketball is a truly global sport with really high participation rates. "By the end of last season, ¾ of our content we were doing was vertical," she says.
Give fans an equal playing field to engage with their clubs and allow the clubs to engage with the fans in their own way, says Loeliger. Often a league can't speak to fans in the same way that a team could, who can focus on the specific demographics that make up their team.
For the NBL, the adoption of a younger employee group that better reflects the fans and the engagement of a specialised TikTok manager has led to great success across the channel.
Sheila Rasu says "the market here is pretty sophisticated when it comes to exporting your knowledge, and expertise is very possible". She speaks about Action Audio, a company based in Victoria that was chosen to be a part of an NBA incubator program.
"Everything in our sport ecosystem here is pretty darn sophisticated … we're aspirational for so many countries around, not just Asia," says Jeremy Loeliger. He also recognises the large basketball markets of China, the Philippines and growing markets in Japan and Indonesia. With references to the NBL including Asian teams in the league, the "the fan engagement strategy has to be really on point".
Nathan Gumley says the Australian market is a "great place to try and adopt new technology".
According to Loeliger, the real opportunity of NFTs is creating value for fans and business: "getting liquidity, getting interest and adding utility to it over time".
Rasu talks about how the league pass is built for the core fan but you need to find different avenues to cater for different fans. Some will only have the time or interest in highlights and you need to provide that in the right place too.
The NBL Commissioner sees short form content increasing in its popularity greatly, but can see how they can "co-exist" and in the long term actually benefit and work with traditional broadcasting.
The Future of Media
Jeffrey Cole, CEO, Centre for the Digital Future, leads a deep dive into media. "Sport is the only content that mostly attracts large live audiences." He said. "Content is king [more] than ever. People don't care which platform, they just go where the best content is."
Cole said that while the Academy Awards will be cancelled because they've gone from a high in the 1980s of 80 million to 15 million last year, the Super Bowl is the opposite story. Of the 30 highest rated programs in history, 29 have been a Superbowl.
The tech companies (Netflix, Amazon, Apple, YouTube) have changed entertainment forever, and now they're coming for sport. Amazon is moving aggressively and YouTube has bought Sunday Ticket football. Apple is moving into baseball and helping baseball evolve with the times, such as implementing shorter games.
Free-to-air (FTA) television is on the demise and, today, the only compelling content on free-to-air is sports. But FTA won't be able to afford sport much longer. Cole says that "it's a matter of time before the major codes can no longer resist the demand and money offered from paid streaming services."
The CEO says every year the codes' content is worth more and they will have little to no choice than to sell it to the highest bidder. Anti-siphoning rules exist to stop that to an extent and to protect viewers, but the truth is there are sometimes more viewers in the digital channels – for example, in US there's more subscribers of Amazon than there are watching FTA. There will only be one more cycle of anti-siphoning because the penetration of broadband means YouTube is as accessible as FTA.
Social's Next Act
This session includes Ben Shepherd (ColganBauer), Tyson Densley (ADL), Annabelle Russell (TikTok Aus & NZ), and Jacqueline Comer (Areto Labs).
Moderator Ben Shephard opens outlining that 80% of Australians are active on social. #Superbowl in Tik Tok had 4.6 billion posts in five days, despite the fact that TikTok only launched in 2018.
Ben focuses the session on what the next five years look like and how we get there safely.
Jacqueline Comer says that disinformation and misinformation efforts are so important to pay attention to, especially with the advent of generative AI. There needs to be more awareness of abuse online, but fundamentally there isn't enough action. Many don't know what to do – block, ignore, report.
"A shift to telling stories on trends and moments in the game as opposed to the sport itself [is needed] so non-football content is celebrated and served up to non-traditional fans," says Tyson.
"The AFL's monetisation of the 'off-site' customer focuses on social being used at the beginning of the fan's journey – we do a lot of branded content, more than ever before but it must have value for the sponsor and the fan," she adds.
Annabelle's favourite recent moment was TikTok's AusOpen account beating its Wimbledon account. She also says that "there's a pendulum shift from the glossy poster on the wall to rougher authentic imagery and back story".
Adding, "TikTok has a unique opportunity to offer sports access to a younger demographic and is helping sporting organisations future-proof their fan base."
In her opinion, the "next generation is much more informed and thoughtful when it comes to abusive content. Every digital platform is a reflection of society."
Finally, Annabelle adds that "until society's perfect, social media will be imperfect when it comes to conduct online. Trust and safety is our number one priority."
Broadcast Wars
James Rushton (Co-Founder, DAZN) sees large changes coming in broadcasting industries. He especially emphasises the importance of looking at gaming, which has "over three billion gamers who we know are highly transactional".
Sanjog Gupta (CEO, Star Sports Network) talks about the Indian market. Whilst it's still a fast growing media market, Gupta says that the disruptions the industry is now experiencing were on the way over the last three years. The rate of disruption has now accelerated greatly due to fan preferences shifting drastically and attention trends moving at rapid rates, which should not be a surprise to business.
He also said to not tether business too closely to a business model that you may need to change or abandon altogether when disruption inevitably comes.
"You can't have a one-size-fits-all attitude to content … it is extremely personal … almost like addressing a market of one," says Gupta.
Sophie Moloney (CEO, SkyNZ) talks on how "super rugby has doubled in viewership from year one to two". There has to be trade offs in the attention that fans give sport, so there has to be a bit of "rebalancing" in the financial balances between women and men's sport.
Patrick Delany (CEO, Foxtel Group) is confident that women's sport "is just going to get better and better as more women come into sports and there is more investment". As a primarily subscription business, Delany says they aren't bothered by lower advertising revenues, but believe that is more a reflection on the advertisers not understanding the product properly as opposed to an issue with the women's sporting products.
Gupta says "it is the core cricket viewer that is watching women's cricket in India, it is a subset of the current cricket fans".
When asked if they would change a games rule to increase its broadcast appeal:
James Rushton says boxing should have a running score, not at the end.
Moloney said she likes the changes happening in rugby at the time.
Sanjog said cricket should stop changing the rules so quickly.
Sophie Moloney says things like masters sports could be on TV if the fan interest is present.
Sanjog Gupta says "to keep the gamer and gamer aficionado in mind when developing products for gamers as opposed to trying to create a gaming product with sport fans in mind"
Sophie and James agree that co-operation and bringing gaming into the traditional fold is likely the way to go.
With the ability of gaming to penetrate through different parts of society, now having far more equal gender and age splits than previously expected, it needs to be closely considered by players across the industry.
The Golden Decade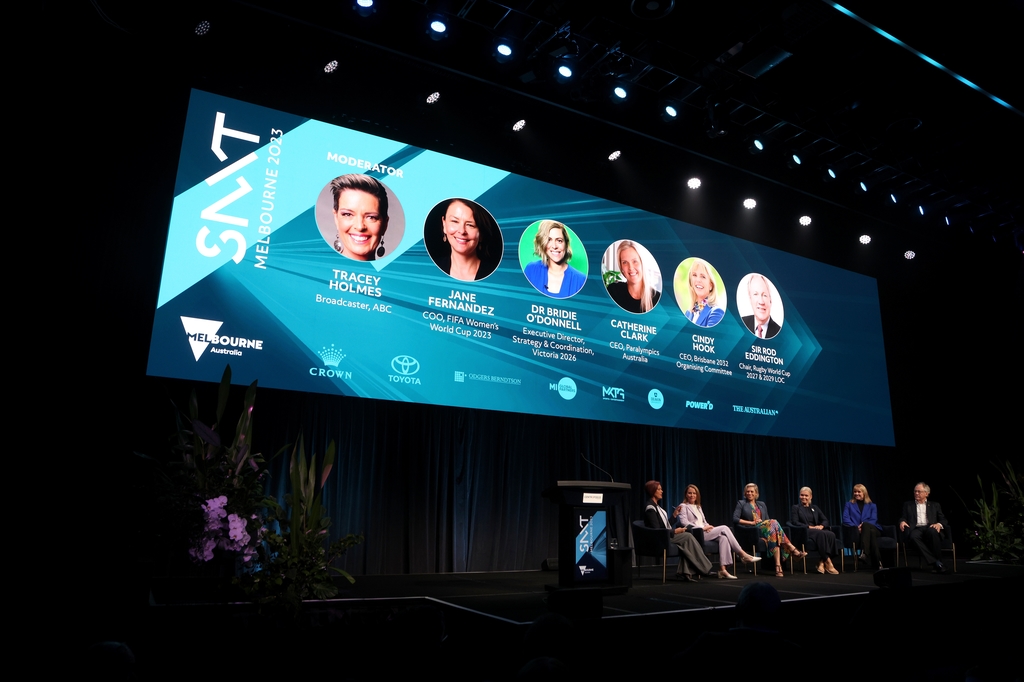 A panel emceed by Tracy Holmes (broadcaster, ABC) consisting of Catherine Clark (CEO, Paralympics Australia), Jane Fernandez (COO, FIFA Women's World Cup 2023), Sir Rod Eddington (Chair, Rugby World Cup 2027), Dr. Bridie O'Donnell (Executive Director, Strategy & Coordination, Victoria 2026) and Cindy Hook *CEO, Brisbane 2032 Organising Committee).
Talking across the panel on the meaning of sport overall and in Australia, Sir Rod sees sport as a fundamental aspect of Australians lives, when he was young and still now.
Catherine says humans are hardwired for struggle and as a result we seek out pursuit of unknowns together, and Jane says that despite the massive workloads to organise major events, they inspire empower and unify passionate people who want to celebrate more than themselves.
Cindy Hook says she was told that she had been told that "I have never seen such enthusiasm for games that are nine years away, that could either be your blessing or your curse." She believes that offers a great opportunity to be the most inclusive games ever. The key in her opinion is to do the important targets of the games very well.
Sir Rod says when it comes to collaboration and cross-pollination on large events, it needs to be thought of at the very early stage. The well organised sports will rise, and the poorly organised ones won't, Sir Eddington says.
Dr O'Donnell notes the importance of being targeted to engage Victorians to attend the Commonwealth Hames as well as targeting global fans.
On the issue of controversy and its management, Jane Fernandez says each issue needs to be treated on its own. You need to act as needed for all public issues and controversy.
Cindy Hook says an 11 year time between being awarded the games and execution as opposed to seven offers great opportunities but a challenge in creating engagement. A solution is engagement plans to create stories and keep people involved in the process, as well as using key moments like logos and mascots to create that excitement.
Sir Rod says a key for large event organisation is "convincing people the challenges between now and then will all be worth it". He uses the example of the facilities, specifically the Gabba improvements that will be a great improvement for Brisbane.
"Value for money depends on what you value, we're lucky we live in a country that values that grassroots and community development," says Bridie O'Donnell.
Cindy Hook says we need to be more frank in our conversations around what we are actually looking to game from a general and social perspective and placing clear metrics for what success looks like.
Jane Fernandez thinks the Women's World Cup "will absolutely take everyone by surprise … it will be a celebration like no other"
Cindy Hook says that it's likely the redevelopment of the Gabba will be a process that will disrupt the city and cause headaches, but she asks for patience with the process and confidence in the overall better outcome for the city and state.
Catherine Clark speaks on the opportunity to genuinely win big for people with disabilities and everyone in communities to gain from the games. To create legitimately positive outcomes for people with disabilities, increasing employment and sporting opportunities particularly.
"Well-staged big events have a great economic effects … the good ones pay you back in spades," says Sir Rod.
He goes on to emphasise the importance of having thorough plans for both big events and grassroots participation rates for all parties involved in sports and events to achieve long term success.
Catherine Clark sys that "the Australian paralympic team is the most-loved national team after Tokyo". She said this is a great opportunity but it needs to have a system that represents the parasports and disabled community equally.
For Jane Fernandez, a priority for the World Cup is making sure people come not only to one game but find appeal in coming back to game after game.
"One of the things you've got to do is find an appropriately sized venue for the context" in reference to the key for running a successful event.
Keynote with Stefano Domenicali Formula 1 Fireside
Stefano Domenicali, President and CEO of Formula 1, begins by noting that progress and growth at F1 was driven by looking at who the fans are and who aren't fans. Inclusion and offering a platform to more people was key to growing the sport.
The F1 CEO cites opening the world of the sport to the fan in a new way, through social and more direct communication channels.
"Around three years ago we were considering if we were even going to stay in the US," now F1 will have three races in the US, says Stefano.
The rapid growth of the brand and business is obviously a great success, but it will need to be managed in an effective way for long term growth.
Stefano also speaks about the commitment of Formula 1 to effectively tackle climate change and become carbon neutral by 2030. He cites this as a crucial aspect of remaining relevant to society, and how this informs a broader approach of their organisation to set examples around social and climate across the world.
The Formula 1 Academy, which Stefano is "super excited about," is a new initiative designed to bring women into the male-dominated sport.
"We could have already today more than 30, even 32, Grands Prix, because everyone wants one," Domenicali says, acknowledging how this has changed over just a few years and how lucky the organisation is to have such interest.
Andrew Westacott, CEO Australian Grand Prix Corporation, and Hamish McLachlan join Stefano for a fireside chat.
Andrew talks about the importance of adding new approaches to the Melbourne Grand Prix, as it was becoming somewhat stale to the fans.
Stefano, when asked about Drive to Survive, says there was definitely internal and external push back against the idea, but taking the risk has been crucial to connect with a new generation of fans that now connect with F1. He says engagement and experience is what sets F1 apart.
"One in three fans that go to the Grand Prix are going for the first time"
Having attracted these fans, the next big challenge is to attract them to stay, says Stefano.
The F1 CEO says that the amount of teams is really based off who wants to come, if it's good for the sport, and if they're strong enough to last. If a proper proposal is made, there could definitely be more, but without a good option there won't be more teams. Stefano says around 24 is a good number of races for the time being.
Stefano believes that, as the pinnacle of motorsport, F1 has the duty and responsibility to lead motorsport for women and give accessibility to women to have a possible future in the sport. This is not just for drivers, but for mechanics, engineers and other staff.
Westacott says the priority is making sure the Melbourne Grand Prix is always delivering on value for money and interest factor. "We only have four days to do it every year, and we are not going to botch that up," he says.
Domenicali says he always looks at other sports to learn from, but he feels a great privilege and responsibility knowing that other codes are looking at to learn from his organisation as well.
Stefano says to lead by example, constantly improve and always be positive are his keys.
Back to all Media