SportNXT Day 2: As it happened
7 Apr 2022
Welcome to day 2 of SportNXT, shaping the future of sport.
Today's Master of Ceremonies Kath Loughnan looks back on day 1 and previews day 2 of SportNXT.
Kath invites SportNXT Director Bart Campbell to the stage to provide his recap of Day 1.
KEYNOTE: IN CONVERSATION – WOMEN. …AND SPORT WITH MEGAN RAPINOE
ABC's Tracey Holmes welcomes Megan Rapinoe to SportNXT. Megan joins us virtually from the US.
Megan is sharing her views on the state of sport globally.
Rapinoe touched on the relationship sports stars have with team and league owners and how, if they work practicality together the benefit is huge. Rapinoe referenced the success of NBA Commissioner Adam Silver and his players through their digital strategy.
Holmes and Rapinoe discussed topics from junior participation, and role models, to government funding in sports of all levels and the diplomatic matters sport faces.
Rapinoe reinforced that the drive for on-field success continues to drive her.
When discussing her approach, Rapinoe said, "Sometimes it's best to work within the institution, sometimes it's best to work outside… and sometimes it's worth building something new."
EVOLVING MODELS FOR SPORT
Bart Campbell has returned for the Evolving Models for Sport.
He has been joined by News Corp Australasia Executive Chairman Michael Miller, Julie Uhrman Co-Founder and President, Angel City FC and Richard Goyder AFL Commission Chair and Chair of Qantas.
Campbell posed questions to the trio on the evolving sporting landscape.
They examined ownership models, funding and governance models across sport. Uhrman revealed that owning a start-up women's football team was the most exciting thing she'd ever done.
They discussed the impacts of a global pandemic and how it has added to pre-existing pressures.
Goyder revealed the AFL would look at evolving ownership models in the future, however, stressed the existing model has served the game well.
ACCELERATING WOMEN'S SPORT
Catherine Murphy is back on day 2, this time for a panel discussion focussed on Accelerating Women's Sport.
Joining the panel live from New Zealand is Raelene Castle CEO Sport New Zealand, Rachel Froggatt CEO Women in Sport Aotearoa and Secretary General, IWG on Women & Sport, Sarah Styles Director, Office for Women in Sport and Recreation (Victorian Government) and Kylie Rogers Executive General Manager Customer and Commercial, AFL.
The panel explored whether we are focusing on the right strategies and actions in growing women's sport.
They touched on the growth of women's sport and indeed women in the sporting industry and shared insights from their own journeys in sport.
With a large, underserved audience and all the attention of the past decade, growth in women's sport has nonetheless been more measured than exponential. The panel thrashed out what are we doing wrong and what do we need to be doing more of, or differently.
SPORT & INDIGENOUS PEOPLES
Shelly Ware headed a panel discussion with Professor Helen Milroy Professor Perth Children's Hospital and UWA; AFL Commissioner, Professor Megan Davis Indigenous Human Rights Lawyer, ARL Commissioner, and Bailey Mackey CEO, Pango Productions; Board, Ngati Porou Holding Company Limited
The Indigenous leaders spoke about the role and impact of sport in society. Where are we making progress and discussed what we must continue to do better.
The panel encouraged sporting organisations to get more Indigenous people around their boardroom tables.
Mackey also urged leaders to keep pressing forward when working in this space, and said while sports leaders are all following the compass, they must also watch the clock.
Davis said it was important for sports to not to be tokenistic when celebrating Indigenous people, but to listen and learn from Indigenous people.
MARKETING AND FAN ENGAGEMENT IN THE DIGITAL AGE
SportBusiness journalist Imran Yusuf has flown in from London to host the marketing and fan engagement in the digital age panel session.
Imran is joined by Kylie Watson-Wheeler Managing Director, The Walt Disney Company (ANZ); President, Western Bulldogs, Ricardo Fort Founder, Sport by Fort; Former Global Head of Sponsorship, Coca-Cola, Richard Heaselgrave Chief Revenue & Fan Engagement Officer, World Rugby and Heidi Browning Chief Marketing Officer, National Hockey League (NHL).
The panel have joined forces to ensure delegates would leave in step with today and tomorrow's Chief Marketing Officers.
The panel discussed the latest in fan engagement initiatives, and in the time of celebrity, social media, and digital channels, how do brands maintain and deepen their connection with and through sport, and vice versa.
GLOBAL LEADERSHIP KEYNOTE ADAM SILVER, NBA COMMISSIONER
SportNXT Chair Eddie McGuire recorded an extended interview with NBA Commissioner Adam Silver.
SPORT DIPLOMACY
Stephanie Brantz has returned to the stage for the Sports Diplomacy session.
Stephanie is joined on stage by Josephine Sukkar AM Chair Australian Sports Commission, Sir Rod Eddington Chair, Infrastructure Partnerships Australia; Chair, Advisory Committee Rugby World Cup 2027 Bid, Kate Jones Former QLD Minister for Tourism & Events, Commonwealth Games; ARL Commissioner and Julie Bishop Former Minister of Foreign Affairs.
The panel is discussing the role sport plays as an enabler of global connection of communities.
Connecting sport, politics and the growing importance of the Asia-Pacific, the epicentre of global events over the next decade.
The panel highlight that sport uniquely brings together and distinguishes people and communities, offering a unique platform. Finally, the session is looking at today's array of political challenges and what is sport's role in the future of diplomacy?
HIGH PERFORMING EXECUTIVES: SESSION 2
The second of our personal growth segments for developing high performing executives is underway. Joining us is Dr Ceri Evans, best known for his work with the All Blacks, but also trusted by leading sports organisations around the world.
Ceri is sharing his 'Red-Blue' mind model, providing attendees tools and tips for people serious about performing under pressure.
ASIA RISING
Kevin McCullagh from SportBusiness has also flown in from Singapore for SportNXT. Kevin is hosting a panel discussion exploring the growing relevance and power of sport in Asia.
He has been joined by H.E. Sandiaga Uno Minister for Tourism and Creative Economy Indonesia, Kiyoshi Nakamura CEO, K2SM Inc, Lien Choong Luen General Manager, Gojek Singapore; and President, Singapore Athletics Association and Ravi Krishnan CEO & Co-Founder Stepathlon. Former Managing Director, IMG South Asia.
The panel are discussing what are the dynamics and opportunities shaping Asia's sport markets, home to a third of the world's population and its youngest cohort of current and potential fans and participants.
THE EVOLUTION OF MAJOR EVENTS
Melbourne is a major events town. Tracey Holmes is back for a panel discussion with leading major events on how they are evolving to meet the needs of fans and what major global events will look like in the future.
Tracey has been joined by Craig Tiley CEO, Tennis Australia; Tournament Director Australian Open, Neil Wilson Chairman, Victoria Racing Club, Jane Fernandez COO, FIFA Women's World Cup 2023 and Collette Roche COO, Manchester United Football Club.
One of the key talking points was the evolution of traditional revenue streams to new diversified avenues such as engaging the off-site fan on digital platforms, particularly due to the accelerated transformation of major events and globalisation throughout the pandemic.
VISIONING THE NEW LIVE!
For the final session of the day, we are re-joined by SportNXT Chair Eddie McGuire for Visioning the New Live.
Eddie has be joined by a Andy Penn CEO Telstra, Geoff Jones CEO TEG, John Harnden AM CEO Melbourne & Olympic Parks Trust; Director Cricket Australia and Patrick Delaney CEO Foxtel.
The panel is is having a detailed discussion about the use of technology in sport. Andy has even brought props.
The pandemic has created an immediate craving to get back to live, however competition and engagement will return.
And the session explored how the application of technology and creativity can yield a vibrant future for live.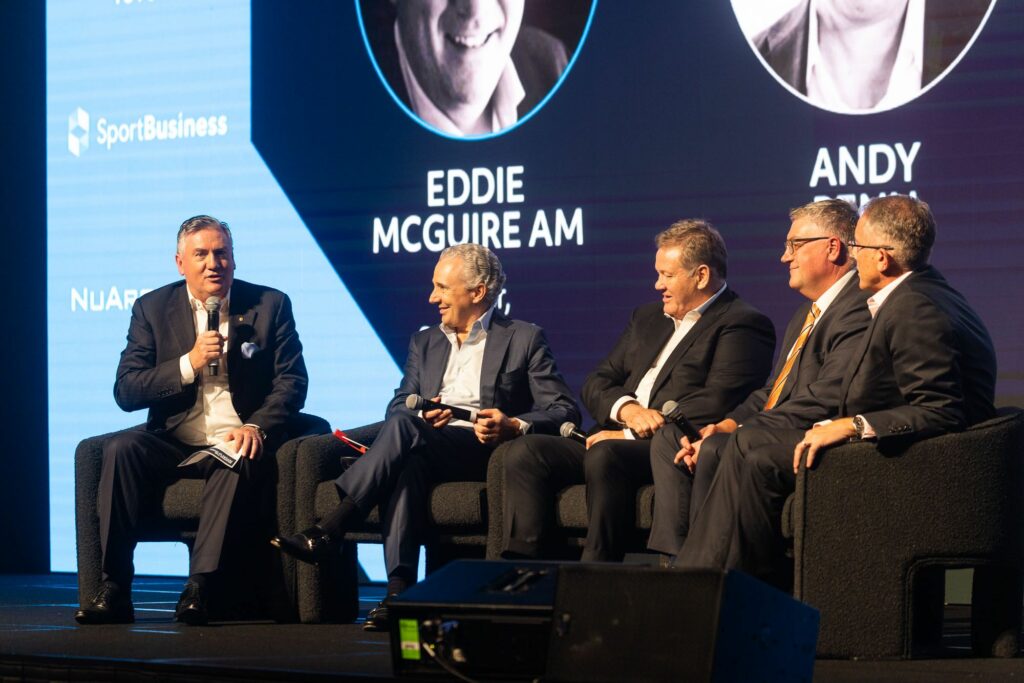 Back to all Media