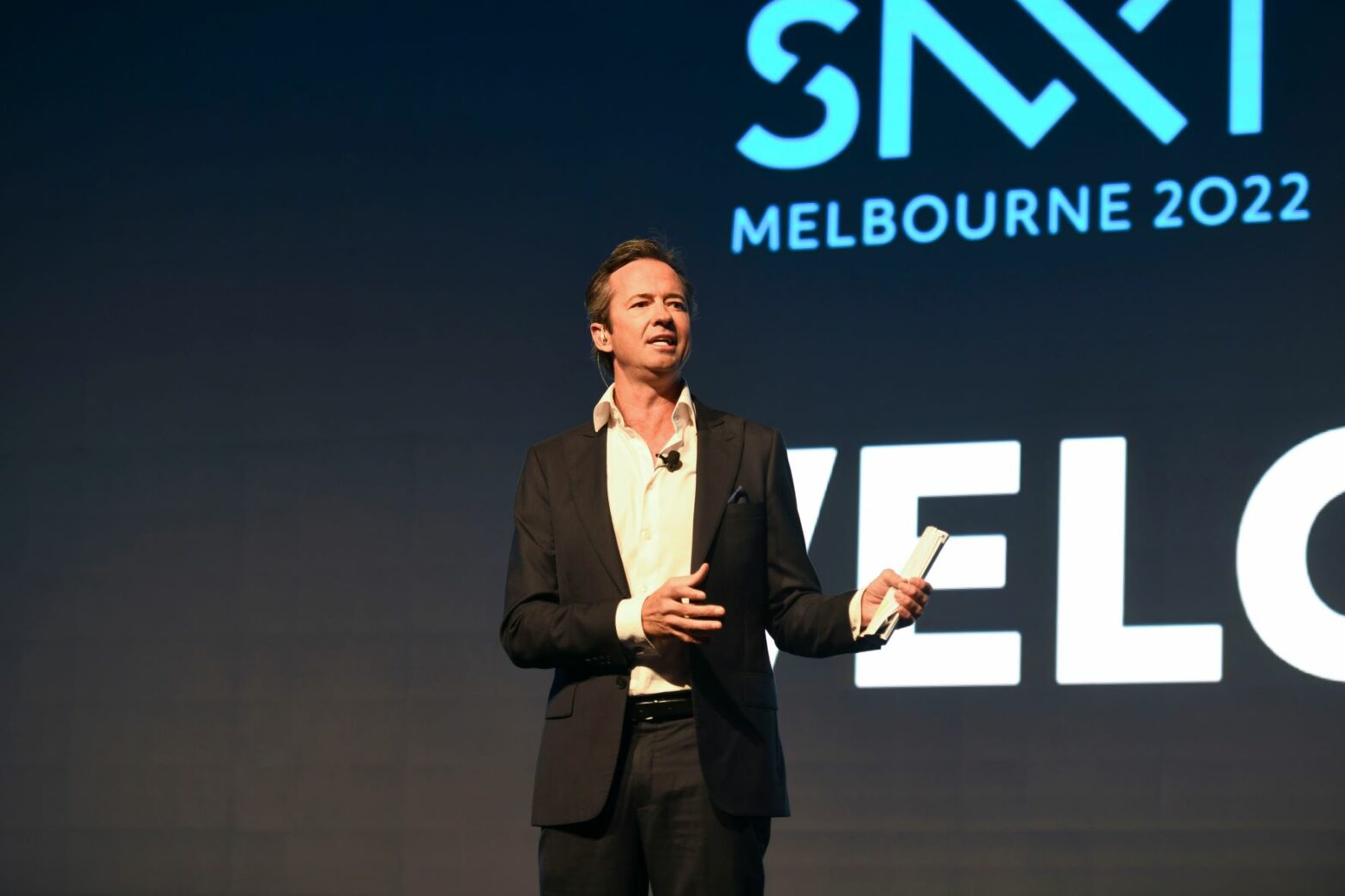 SportNXT Day 1: As it happened
6 Apr 2022
Welcome to SportNXT, shaping the future of sport.
We're underway at Centrepiece, guests have gathered and Treasurer of Victoria, the Honourable Tim Pallas is welcoming guests.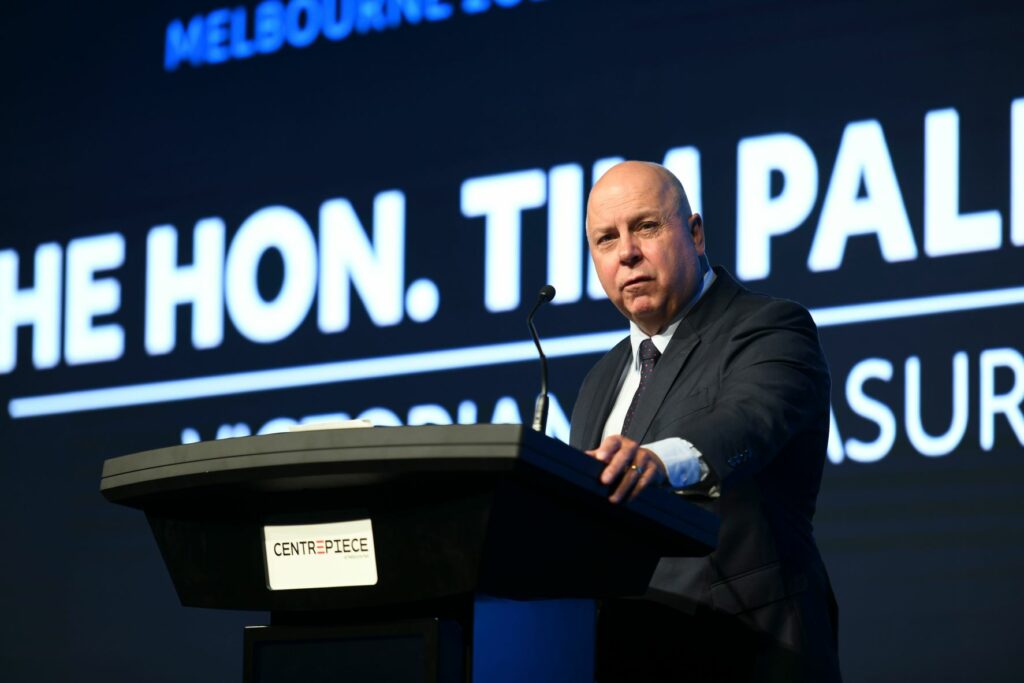 Day 1 Master of Ceremonies Hamish McLachlan introduces SportNXT Chair Eddie McGuire to preview the summit.
THE STATE OF SPORT
Lisa Walton, Director, Deloitte Digital and Former Olympian has outlined the state of sport, the good, the bad and the ugly across the state of global sport and the forces and trends that will shape what comes next. Lisa was joined by Peter Giorgio, Principle, Deloitte, Head of Global Sport.
From women's sport to NFTs, data and eSports. And the rise of humanity in sport and the power of new role models.
COVID LESSONS LEARNED?
Scott Dinsdale, Dr Adam Karg and Dr Jonathan Robertson are detailing the COVID Research findings. Revealing what has changed from the initial research released in May 2021 and the ongoing impacts and outcomes of the pandemic on sport.
CEO FORUM: WHAT COMES NEXT? CHARTING SUCCESS IN A NEW WORLD
Catherine Murphy is hosting an in-depth panel discussion with the leaders of Australian sport. Catherine has been joined by Gillon McLachlan (AFL), Nick Hockley (Cricket Australia), Andrew Abdo (NRL), Jeremy Loeliger (NBL), Kelly Ryan (Netball Australia), James Johnson (Football Australia) and Andy Marinos (Rugby Australia).
The panel discussed the challenges they have faced financially and logistically through the pandemic and what is on the horizon.
A potential Olympic bid for Netball, the 2023 FIFA Women's World Cup and the news that Australia being named as the preferred host as the 2029 Rugby World Cup.
A key point of discussion was the gender balance of the panel, with Kelly Ryan being the only current female CEO of a major Australian sporting organisation.
The NBL spoke of the commercial and fan experience opportunities that come from NFTs, however Jeremy Loeliger says it's the fan experience that NFTs provide that he is excited about and not solely the revenue stream it may provide. As digital product lives on beyond the purchase and can continue engagement with consumers.
AFL CEO Gillon McLachlan revealed details about their move with NFTs.
"There'll be a Buddy 1000 NFT – it's what it looks like," McLachlan said.
"The team are working on that at the moment. It's known we're in partnership with Animoca.
"There'll be lots of NFTs that come out of that, because it was a pretty unique event.
"That was one that will have a lot of value.
"There'll be one official NFT of him kicking that goal. Whether it's animated, there'll be different versions of it. That's the future."
SPORT & MEDIA IN 2030
Colgan Bauer Director Joe Colgan is moderating a panel of leading industry experts including Amada Laing, Chief Commercial and Content Officer, Foxtel, Andrew Georgiou, President, Discovery Sports, Sanjog Gupta, Head of Sports, Disney and Star India, Jeffrey Cole CEO and Director, Centre for Digital Future and Martin Kugeler, CEO, Stan Sport.
The panel are discussing what a 2030 media rights deal could look like in the future and how that will change how viewers consume sport.
They discuss the hallmarks and scope of deals over the next two to three rights cycles and the media organisations well positioned.
Sanjog Gupta revealed viewers live their life virtually, through digital consumption, than reality. While Jeffrey Cole said networks still need to be careful of their relationship with consumers referencing the MLB player lockout.
THE FUTURE OF DATA
Champion Data CEO Elizabeth Owens has hosted a session on the future of data. Elizabeth is joined by Track160 CEO Eyal Ben-Ari and Two Circles CEO Gareth Balch.
The trio are discussing all things analytics and their growing presence and dependence in sport.
Is there more to the story than what the data tells you and what's the best balance to meet?
The session included audience participate which delved into integrity matters and the role data plays in strengthen sport integrity and what opportunities are best explored, and what best left alone?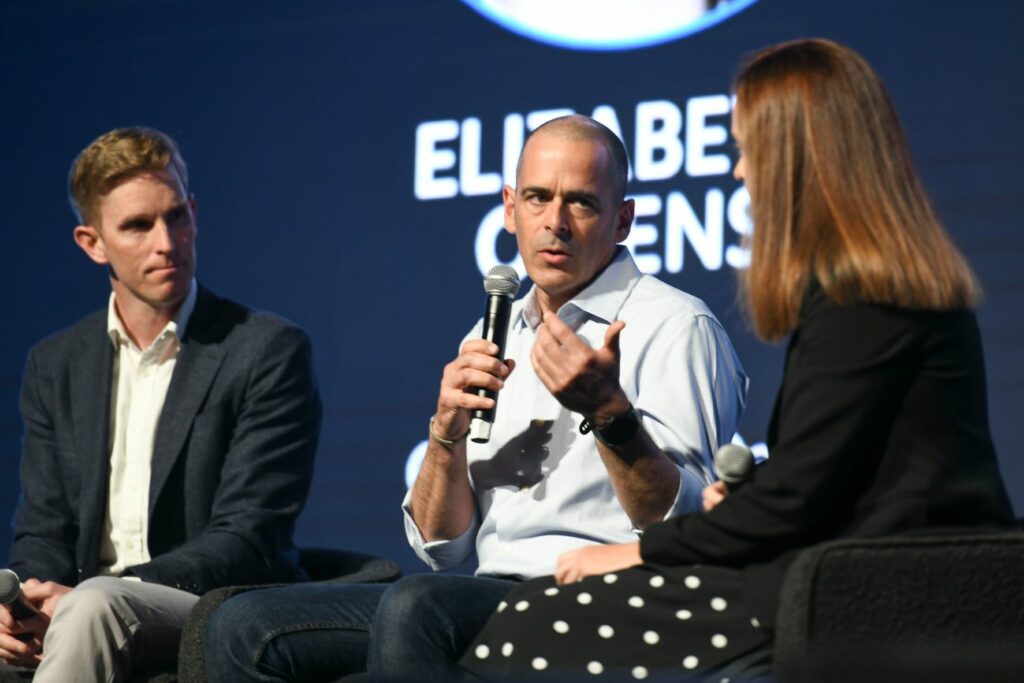 SHAPING THE FUTURE OF BROADCAST
Eddie McGuire has joined us once again for the Shaping the Future of Broadcast session. Eddie has been joined by legendary journalist, presenter, producer, executive and director, David Hill AM.
Hill reveals his view that sport is an entertainer, you need to change minute by minute, because audiences are changing at the same rate.
The TV legend told delegates that his father told him in the early days that sport was a cure for boredom and now we have more means to cure boredom than sport, our options today are boundless. So TV must evolve and the experience of watching needs to match the expectation.
Hill highlighted the importance of the announcer and commentator and the for sport to grow it needs to effectively promote the stars.
GLOBAL LEADERSHIP KEYNOTE STEFANO DOMENICALI – PRESIDENT & CEO, FORMULA 1®
We are hearing a wide-ranging keynote address from President & CEO of Formula 1 Stefano Domenicali. Stefano has spoken about the season ahead, F1's return to Melbourne and the challenges and opportunities in front of F1.
He's now been joined on stage by MC Hamish McLachlan and Australian Grand Prix Corporation CEO, Andrew Westacott.
Stefano said he believed F1's net zero targets by 2030 is on target and with the support of the teams he says it will happen.
Andrew says he is thrilled to bring F1 back to Melbourne as the city bounces back from COVID. Andrew gives insight about he and his team's role as the promoter of the Melbourne GP and the importance of the full fan experience, from the action on the track to the entertainment linked to the event.
Domenicali touches on F1's evolution from a European focussed calendar to a true global focus and says the priority on the future will be on what their customers want to see and need. He said it was crucial that everyone can access F1.
When pulling out his crystal ball he sees a future where commentary will be for specific fans, should that be for the avid team specific fan or children's commentary
Domenicali spoke of the importance of F1's 20 drivers playing the role of ambassadors for the sport.
SPORT & CLIMATE CHANGE
Dr Sheila Nguyen, CEO, Sports Environment Alliance  has been joined by World Rugby CEO Alan Gilpin, Director of Sustainability, Tennis Australia Matthew Nicholas and Julia Palle, Sustainability Director, Formula E joined us live from Europe.
The panel focused on how sports need an increased focus sustainably, not because their fans expect it, but now more than ever because it's the right thing to do.
Gilpin layed out his teams far-reaching Environmental Sustainability Plan 2030, which aims to dramatically cut World Rugby's carbon emissions and build better choices into all of its activities.
Matthew shared Tennis Australia strategies in place to ensure they are playing their role, including a partnership with Samsara, where they have up with the game-changing Australian enviro-tech start-up to reduce plastic bottle waste at the Australian Open.
HIGH PERFORMING EXECUTIVES: SESSION 1
Stephanie Brantz joined Marina Go and Simon Cummins led an insightful discussion outlining strategies for executives navigating careers in the competitive sporting landscape.
Simon Cummins, Global Head Sports, Gaming & Media Practice at Odgers Berndtson shared his nearly two decades of experience placing senior leaders into all major Sports organisations and International Federations around the world including most recently the Brisbane 2032 Olympic and Paralympic Games. Simon shared a unique perspective on how to distinguish yourself in the highly competitive world of sports.
Meanwhile Marina Go shared share insights from her extensive experience and from her book "Breaking Through – 20 Success Strategies for Female Leaders". Delegates learnt about successful strategies for female leaders and how they are applicable for both men and women across the sports industry.
GENETICS: THE FUTURE OF INJURY PREVENTION
Dr Lior Rauchberger, CEO of myDNA is sharing with delegates his passion for health technology, big data, DNA and personalization.
Delegates are hearing about genetic testing for exercise prescription and injury prevention and how his tram are developing a cost cost-effective one-time test to help coaching staff personlise training and nutrition to help keep players injury free.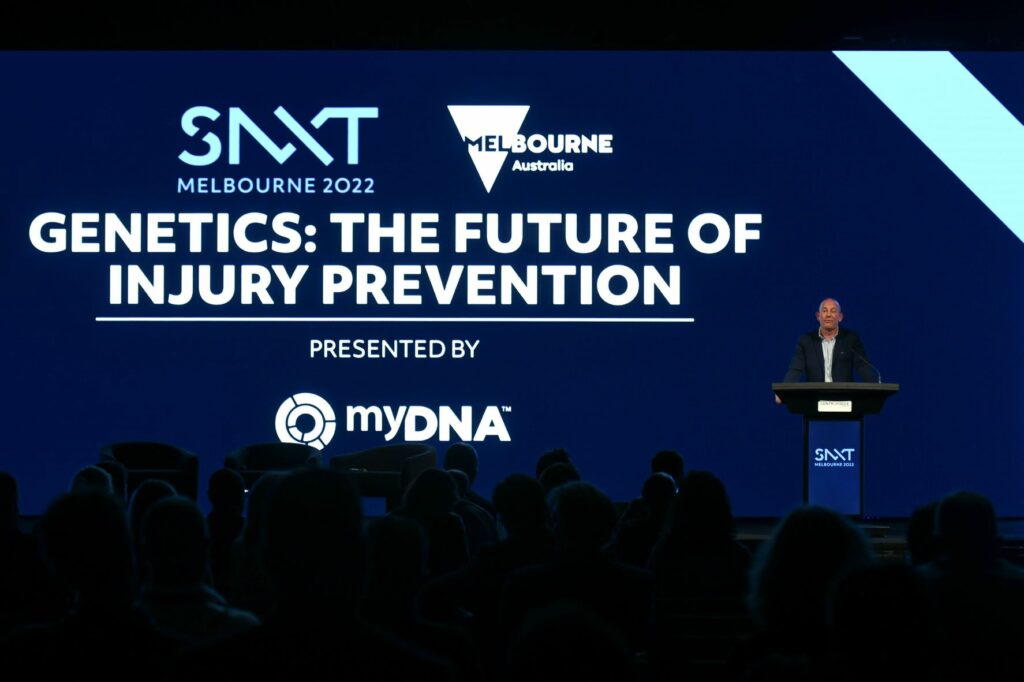 THE GAMES PEOPLE PLAY
Scott Dinsdale has returned for a panel discussion alongside, Florent Gutierrez Global Esports Director Razer Inc., Joseph Wadakethalakal SVP Corporate Development, Mobile Premier League, Phil Williams Co-Founder Altered State Machine and Dev Bajaj Chief Corporate Development Officer, Dream Sports.
The panel are discussing how traditional sports businesses and investors have had an on-again off-again relationship with gaming. From Esports to mobile and asset-based gaming, where is it all headed, and what should the relationship be?
WEB 3.0,BLOCKCHAIN & SPORT
Scott Dinsdale remains on stage and is joined by Todd Cooper, CEO NuArca Labs, Ridley Plummer and Todd Cooper.
The panel are sharing insights across the blockchain; crypto, tokens, collectables and asset-based gaming. Debating the key trends and answering the top polling audience questions across an often confusing, fast-moving and future-certain domain.
Click here to read more from NuArca CEO Todd Cooper as he provide his answers to 11 questions, beyond financial considerations, rights holders should ask when evaluating NFT strategies and partners.
KEYNOTE: CONNECTING THE GLOBAL COMMUNITY LORD SEBASTIAN COE – NON EXECUTIVE CHAIR, CSM SPORT & ENTERTAINMENT; PRESIDENT, WORLD ATHLETICS
Eddie McGuire has returned for the final session of the day, an in-depth discussion with Lord Sebastian Coe.
Coe discussed the power of the Olympic movement, particularly its ability to reconcile cultures and people all over the world.
Coe said "we don't just want it (Olympic Games) to be a medal table. We want it to achieve social and health outcomes."
He also discussed Russia's 148 positive performance enhancing tests and how it wasn't about politics but the integrity of sport.
Back to all Media